Every artist Thrust has worked with this year graduated last week, most from Middlesex University where we trained (and Scott Wright, who wrote Inheritance, from the University of Surrey). Those artists, with whom working has been a pleasure and a privilege, are:
Zakk Hein, Dan Henry, Ester Mangas Fernandez, Freya Martin, Henry Martin, Tika Mu'tamir, Sophie Napleton, Charlotte Trotter, Harriet Wakefield, Rachel Wood, Ryan William Funnell, Lizzy Gethings, Zoë Sofair, Vicky O'Neill, Tanita Gibbs, John Ovenden, Alex Boxall, Adam Hammet, Luke Joyce, Mairead Ryan, Scott Wright, Rosanna Grimes, William Bowden and Bruce Adams.
It was a right old hassle getting everyone in the same place for photos, so all I have here is what ended up on my camera, but there are many more pictures that should be here and many faces that are missing, so hopefully this post will grow over time.
Rosanna, Bruce and Will all graduate with first-class degrees (one in Theatre Arts and two in Theatre Directing respectively), as do many other ensemble members.
The obligatory hat-toss.
Vicky O'Neill, Zakk Hein, Bruce Adams, Lizzy Gethings, Rosanna Grimes, William Bowden and Charlotte Trotter.
A crack team of hardcore theatremakers. Flouncing about in robes.
A few of our creatives and designers: Lizzy Gethings, Charlotte Trotter, Bruce Adams, Ester Mangas Fernandez, William Bowden and Freya Martin.
On behalf of the entire company I'd very much like to express our sincere gratitude to the phenomenal staff on the Theatre Arts programmes at Middlesex, all of whom I couldn't possibly name for fear of missing someone out, but in particular (for their special contributions to Thrust's projects): Nick Herrett, Sam Beale, Nicola Stammers and Charlotte Thompson; technical manager and negotiator-in-chief Bruce Allen, and Ben for getting us through our AV projects; Lesley, Di and Becca, the amazing costume team; and also the Dean of Media and Performing Arts, Carole-Anne Upton, for taking a special interest in our work and mentioning our achievements in her graduation speech, and deputy dean Signy Henderson.
Finally, a special mention for Ryan and Adam, who are in the States this summer and couldn't join us to celebrate.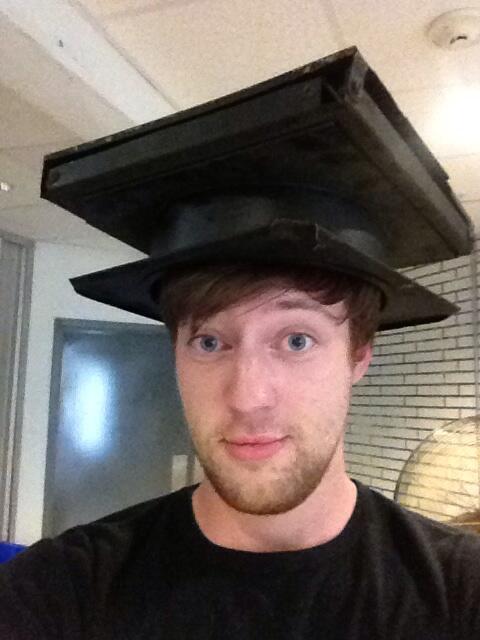 (Although they tried very hard.)